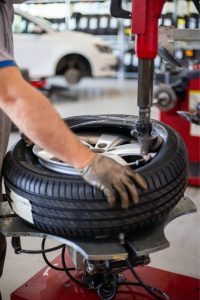 Tire repair is essential to the safety of your vehicle.  Tires may be the only real thing which links the vehicle to the road. If the tires do not have a wonderful grip on the tarmac, lifesaving systems like anti-lock brakes and also electronic stability control cannot do their job.
Flat or damaged tires ought to be taken care of by competent personnel. An incorrectly repaired tire might fail, when driven at high speeds, creating loss of control.
We have years of experience in tire installation, as well as, repair work services.
Our solutions include:
Tire solutions for automobiles, trucks, RVs & commercial trucks
New & Used Tires
New & Used custom Wheels
Tire Repair Solutions
Wheel Balancing
Essentially, any sharp item when traveling might result in a flat tire. We repair tire tread punctures approximately 1/4″ in dimension. We don't encourage fixing larger punctures or slits to the tire's shoulder and also side wall surface.
You should quickly pull over to a location isolated from other traffic, if you get a flat tire while driving. Driving on a flat tire can create damage to the wheel or cause you to lose control of your car or truck completely.
Why should you have tire repairs and installations carried out at American Tire Center in North Canton?
The methods used by our technicians to repair a tire comply with the Rubber Manufacturer's Association (RMA). The RMA states that a flat tire can be fixed if the damage is 1/4 inch or smaller in size and that the damage is on the tread of the tire and not on the sidewall.
Our employees might fix, plug, or seal the damage on a punctured tire. Also, our repair service personnel can assist if your tire is losing air as a result of valve stem damages or when the tire isn't securely attached to the wheel's edge rim.
Contact us for more information at (330) 494-5255